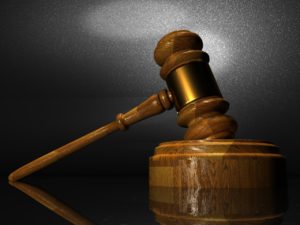 One of the most amazing and confounding aspects of Donald Trump's presidency has been his continuing lack of restraint on Twitter. Anyone who thought his staff would rein in his use of social media is still waiting. Apparently, the president will continue to say whatever he wants whenever he wants and wherever he wants. But will the rest of us continue to have the right to rebut him, or any other politician?
Recently filed lawsuits against Trump, several governors and even some local officials ask that question. The suits charge that a politician's deletion of criticism or blocking of users who post critical comments violates our First Amendment rights.
In July, the Knight First Amendment Institute sued Trump, former White House Press Secretary Sean Spicer and Daniel Scavino, White House director of social media, charging that their blocking of Twitter users critical of Trump's policies is unconstitutional. The complaint likens Twitter to a public square. "Twitter enables ordinary citizens to speak directly to public officials and listen to and debate others about public issues, in much the same way they could if they were gathered on a sidewalk or in a public park, or at a city council meeting or town hall," it reads. Also listed as plaintiffs are private citizens whose accounts were blocked, including several writers, a professor of sociology at the University of Maryland, a political organizer, a medical doctor and a police officer (he's also a veteran who served in Iraq and Guantanamo Bay).
The complaint makes a convincing case that Trump uses Twitter as an official medium to communicate with citizens. It uses some of the president's own tweets as evidence. Take this one from July, for example: "My use of social media is not Presidential – it's MODERN DAY PRESIDENTIAL."
While Knight's is the highest profile lawsuit, cases at the state and local level are proliferating. Over the course of the summer, the ACLU sued several governors for censoring comments and blocking users, including Maryland Gov. Larry Hogan, Kentucky Gov. Matt Bevins and Maine Gov. Paul LePage.
"The highest purpose of the First Amendment is to protect the right of Americans to engage in political speech and to petition the government to address their concerns," Deborah Jeon, legal director for the Maryland ACLU, told the Washington Post. "It violates both the First Amendment and Maryland's own social media guidelines for government officials to block out any voices of dissent or those simply raising questions about positions taken by public officials sworn to serve."
While these cases have yet to have their day in court, a Virginia man's crusade against the Loudon County (Virginia) Board of Supervisors has yielded mixed results. Brian Davison, a private citizen, filed lawsuits against the Loudon County School Board, the Loudon County Board of Supervisors, its attorney and its chairperson for blocking him from their Facebook pages or deleting his critical comments. In one case (against the attorney), the court ruled against Davison, saying that the county's social media comments policy created a "limited public forum" that the government was entitled to control. It said that Davison's post was an attempt to "hijack the discussion" and therefore fell outside the bounds of the limited forum. It's worth noting, however, that the attorney has unblocked Davison.
Most recently, in the suit against the board's chairperson, another judge ruled that Davison's free speech rights were violated. In this case, Davison was initially blocked but then reinstated within just a few hours. Although the court said the incident did not merit the award of any damages, it issued a declaratory judgment clarifying that the chairperson's Facebook page "operates as a forum for speech under the First Amendment to the U.S. Constitution" and that "engaging in viewpoint discrimination in the administration of that forum violates the First Amendment."
As more politicians use social media to engage the citizenry, often opting to use Twitter rather than speak to traditional news media, these legal challenges are critical. Some observers think this issue will eventually make its way to the Supreme Court. I hope it happens soon, and that the court upholds our First Amendment rights. Meanwhile, Knight, the ACLU and Davison deserve praise and support for defending our right to debate important issues in the digital public square.