Archive for the 'Law' tag
The Internet enables my career, and to an increasing extent, my life. I spend hours online every day communicating with sources, editors, colleagues and friends not only by e-mail but also via social networks like Facebook and Twitter. I spend even more time using Google to conduct research for various stories. (Remember when we reporters actually had to use the telephone and go to the library?) I do a substantial amount of my shopping online. I do virtually all of my banking online.
But what if someone suddenly pulled the plug on the Internet? My work and much of my life would come to a halt. I've been thinking about that ever since Wikipedia and other sites went dark a couple of weeks ago to protest the Stop Online Piracy Act (SOPA). An effort to fight online violations of copyright and intellectual property, SOPA would have expanded the power of U.S. law enforcement over Internet service providers (ISPs). It would've allowed the government to bar ISPs and search engines from linking to or conducting business with websites suspected of aiding and abetting violators, and could require them to block access to such sites. (A good explanation of SOPA can be found here.)
I agree with the opponents of SOPA, who said that the bill threatened free speech and innovation. I'm glad the bill was defeated. But it wasn't defeated because opponents won the argument. It wasn't even defeated by lobbying muscle. (Google last year spent $9.7 million on lobbying, an increase of 88 percent over 2010.) Rather, it was defeated by extortion.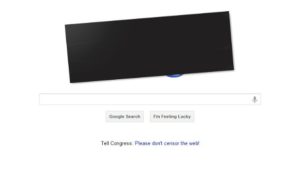 Google purportedly considered shutting down its search engine for a day, but the company wisely refrained. It settled for covering its logo in black to protest the proposed legislation. Even without the participation of Google, the Internet strike peeled back the curtain to show how dependent we've all become on the Internet in our daily lives. As Larry Magid put it in The San Jose Mercury News, "Tech companies flexed their muscles Jan. 18 and we found out that they're a lot more buff than many had thought." Virtually all of the key players on the Internet – including Microsoft, Yahoo, Facebook and Twitter – opposed SOPA. What if they had all shut down? For that matter, what if the major wireless providers also joined in? Just try going through a day without using wireless technology and the Internet. How would you find your way to that off-site meeting? Still got a paper map in your car? But what about traffic jams? Turn on that AM radio. Need to call because you're running late? Dust off your phone books, if you still have them. And good luck finding a pay phone.
I know what it's like to be at the mercy of a service provider. My neighborhood is on a bad part of the electricity grid. We have old lines and large trees, so when the wind blows we sometimes lose power. It's infuriating that my service literally depends on which way the wind blows. But I've found that I can get by without air conditioning, refrigeration or heat (we have a fireplace). The real worry for me was my lost connection to e-mail and Internet. So now I use 3G. When the power goes out I can still get e-mail on my iPhone and access the web on my iPad
Now my informational lifeline feels threatened. My access to electricity may depend on the vagaries of weather, but my utility has never threatened to cut my power because they don't like proposed legislation. My access to the Internet depends on a few powerful technology companies. And they have made that threat. Whether they carry it out apparently depends on the vagaries of the political winds.
Something's rotten in the technology industry, and the U.S. Securities & Exchange Commission is trying to root it out.
In December, the SEC brought fraud charges against mid-level executives at Flextronics International Ltd., Advanced Micro Devices Inc., Taiwan Semiconductor Manufacturing Company and Dell. These men had been "consulting" part-time over the last two to three years for expert network firm Primary Global Research LLC. The four were allegedly paid more than $400,000 to participate in calls with Wall Street hedge firms and traders — calls that it turns out the Federal Bureau of Investigation had wire-tapped.
The SEC complaint charges that these managers shared material non-public information about their companies, and it includes quotes from transcripts of the taped calls to illustrate. In an October 2009 call, for example, a Flextronics senior director of business development tells a trader that Apple is coming out in the spring with a new iPhone (presumably the iPhone 4) that will include two cameras, a five megapixel auto-focus camera, and a VGA forward-facing video conferencing camera. He also reveals that Flextronics expects to start building the new phone in March. (The iPhone 4 started shipping in June.)
A Dec. 20 Wall Street Journal article says that this is just "the first major shoe to drop" in a three-year investigation. The investigators seem to be following a trail that began with the insider trading charges filed against the Galleon Group and its founder Raj Rajaratnam in late 2009. Former AMD Chairman Hector Ruiz has been tied to the Galleon investigation, although he has not been charged with any wrongdoing. Former high-level IBM executive Robert W. Moffat Jr., however, pleaded guilty to leaking inside information about IBM, Lenovo and Advanced Micro Devices in the Galleon case. Last fall he was sentenced to six months in jail. In the charges filed last month against the tech executives, the SEC describes a secret witness, "an individual who had substantial experience evaluating public companies in the semiconductor and technology industries." The WSJ story identified that witness as Karl Motey, a technology analyst who had a business connection with a hedge-fund manager charged in the Galleon case.
One of the WSJ's sources said that Motey made calls, presumably as a client of Primary Global, to corporate managers at more than 60 companies, gathering evidence for the government. It won't surprise me if all 60 of those tech companies are eventually implicated. The growing scandal reflects the continuing cozy relationship between the tech industry and Wall Street. Over the course of my 25-year career reporting on this business, I've often been amazed by how chummy the two groups are. In tech, where so much of salary and compensation rides on initial public offerings and stock options, and where much of a company's financial success depends on the technology the company is bringing to the market, these relationships may be a natural outgrowth. But, perhaps because so many tech companies grew out of the Silicon Valley's venture capital culture – in which inside information is not criminal, but rather, the stock in trade (pun intended) of the business – there seems to be widespread nonchalance, even disregard, of SEC regulations designed to protect the interests of ordinary investors.
Every few years, it seems the SEC makes a run at reining in the abuses at tech companies. Five years ago, for example, it investigated a bunch of tech companies – including Analog Devices, Broadcom and Apple – for allegedly backdating stock options. Apparently, many companies routinely changed the date on which their boards approved stock options, moving it from the real date to an earlier date so that the options would benefit from a recent rise in the stock price. Companies are still dealing with the legal fallout from that scandal.
It will be interesting to see who else the SEC catches in this latest net. Indeed, just a few days ago, Reuters reported that court documents recently filed in the Galleon case named a former senior marketing director at Akamai Technologies Inc. as a source who allegedly provided inside information to a trader. Will all this lead to changes in tech industry practices? Unless dozens of high-profile execs get charged, convicted, and sent to jail, history indicates that the odds are against it.
(For more details on the individuals involved and the information they shared, read my blog post on EBN Online.)
As a writer, I believe strongly in the concept of copyright, retaining the rights to the work by which creative professionals earn their living. But I have a confession to make. Ever since I launched my website, I've been operating in a gray area when it comes to the copyright on images.
I strongly suspect, however, that I'm not alone. How many of you out there – yes, you writers and bloggers – verify the copyright and obtain permission if required for every image you use from the Web?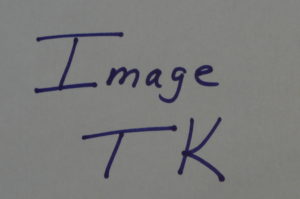 I thought so. Me, too.
Initially, I was concerned about using the magazine covers on my website. Still am. But the images are so small I'm betting these publishers won't give me grief about it. At any rate, it's probably fair use.
But I faced another copyright challenge once I figured out how to add images to my blog posts. I've tried to be careful, but it's not easy – in fact it often seems impossible – to figure out whether images are copyrighted. A Google search for mountains, for example, yields more than 37 million images. If I start clicking through these, a few are obviously copyrighted – they carry the familiar copyright symbol, ©. But most do not. Of course, the law no longer requires a work to display the © symbol for copyright protection. In fact, when I click on any image, Google warns me that "This image may be subject to copyright." When I click further to go to the original source – which may be a commercial website, someone's blog, or even a variety of websites that claim to offer "free" images, it's never clear whether the image is copyrighted. There is no copyright notice on the photo, although there is a copyright notice at the bottom of the website. Presumably this copyrights the website, but not the photo.
When I attended the Future of Freelancing conference last summer, one presenter mentioned that a good way to find images available for legal use was to search Creative Commons (CC). I've tried, but remain baffled. Right off the bat, the home page tells me:
"Do not assume that the results displayed in this search portal are under a CC license. You should always verify that the work is actually under a CC license by following the link. Since there is no registration to use a CC license, CC has no way to determine what has and hasn't been placed under the terms of a CC license. If you are in doubt you should contact the copyright holder directly, or try to contact the site where you found the content."
In addition, Creative Commons offers a confusing array of different types of licenses that specify different conditions under which I may use the work. So even if I figure out it's licensed under Creative Commons, I still have to decipher exactly how I'm allowed to use it.
All this means that locating and verifying an image often takes as long as writing the blog post. Sometimes longer. Occasionally, I actually discover the copyright owner and ask for permission. The outpouring of gratitude tells me how widescale this problem is.
Here's what Richard Krzemien, the author of the cartoon I used in last week's post, told me about copyright infringement: "I used to keep close track of copyright problems, but honestly it can become a full time job. That's why I took most of my comics down from the site. And all that's available are the low resolution versions online. I figure it's the cost of doing business. So I greatly appreciate you contacting me for permission."
I'm sure what I've run into is just the tip of the iceberg in terms of copyright infringement on the Web. Come to think of it, that would make a good illustration for this post. There are 1.5 million images of iceberg tips on Google. I wonder which ones are legal?
For the first couple of years I was freelancing, I just signed on the dotted line when it came to contracts. I didn't want to read the fine print because, frankly, I needed the money. It was depressing enough that virtually every contract granted copyrights to my work in any and all forms in existence now or ever to be invented in the future, throughout the universe.
But curiosity and concern finally won out, so now I'm reading the contracts more carefully. I'm alarmed at what I find in some of them:
The writer pays for the lawyers: This clause specifies that I agree to indemnify the publisher from damages, costs and expenses that the publisher incurs because of copyright infringement or even the claim of copyright infringement. Some contracts specifically state that I am to protect and defend the publisher against such lawsuits at my own expense. I have never been accused of infringement in 25 years as a journalist and will gladly promise that my work does not infringe. But editors change wording, sometimes in major ways. It's not fair to hold me responsible for a mistake an editor introduced into the article. And what if some kook out there falsely accuses me and the publisher of infringement?
The writer sells her soul: A contract I recently declined not only asked me to indemnify the company – a multi-billion-dollar corporation that is a household name – against any claim of infringement, it also wanted rights to use my name, voice, likeness and biography to promote its website in whatever way it wanted. This was for an initial story paying $400.
The writer stops freelancing: Last year I was presented with a contract to work with a custom publishing firm to produce a corporate magazine, again for a Fortune 500 client. It was no surprise that the contract had a section covering confidential information. Routinely, the contractor promises not to divulge or use any confidential information from the client for any other purpose other than that expressed in the agreement. But this contract stipulated that I could not, ever, disclose or use any information not only about this particular client but any client of the custom publisher. It wasn't limited to trade secrets or even to information obtained during the course of producing the magazine. It was any information, forever, about any client. And I didn't even know who the other clients were.
Most publishers are reasonable when I call their attention to these inequitable clauses. They are willing to work with me to make changes that satisfy both our needs, even though they sometimes say I'm the only writer who's ever raised such questions. Although I have lost some business from a couple of inflexible publishers, so far I've been able to afford to do that. I hope that luxury lasts.