Archive for May, 2011
Google changed its algorithm in late February, and I am proud to announce that I saw no drop in traffic to my website. The change was designed to weed out content farms and other low-quality websites that were gaming the search engine's system by packing their sites with SEO (search engine optimization) keywords rather than good information. (To read more on content farms, see "Content farms offer empty calories.")
OK, so maybe I'm not much of a data point. After all, my audience of 100 or so family, friends and colleagues would probably still read my blog even if it made no sense and was stuffed with keywords like "Viagra." In fact, I'm pretty sure a couple of them might even read it more.
The point is that Google has succeeded, at least temporarily, in kicking the content farms down a few notches in search results. That's a good thing for anyone who cares about good editorial. Demand Media admits that Google's new algorithm hurt its search rankings. In a conference call to discuss the company's quarterly results in May, CEO Richard Rosenblatt said search engine referrals for eHow were down 20 percent. The company is also still losing money, reporting a first-quarter loss of $5.6 million. As of May 18, Demand Media's share price was down to less than $15, from a high of just over $24.
In explaining the changes to its algorithm, Google is trying to encourage higher quality. While it won't reveal details on the new algorithm, since that would defeat the whole point of confounding the content farms, Google did explain the company's thinking on its Webmaster Central Blog. It presented a list of questions, most of which any good editor would use to judge the quality of her website, magazine or newspaper. Among them:
• Would you trust the information presented in this article?
• Is this article written by an expert or enthusiast who knows the topic well, or is it shallow in nature?
• Does the site have duplicate, overlapping or redundant articles on the same or similar topics with slightly different keyword variations?
• Does this article have spelling, stylistic or factual errors?
• Are the topics driven by genuine interests of readers of the site, or does the site generate content by attempting to guess what might rank well in search engines?
• Does the article provide original content or information, original reporting, original research, or original analysis?
• Does the page provide substantial value when compared to other pages in search results?
• How much quality control is done on content?
• Does the article describe both sides of a story?
• Was the article edited well, or does it appear sloppy or hastily produced?
• Does this article provide a complete or comprehensive description of the topic?
• Does this article contain insightful analysis or interesting information that is beyond obvious?
• Is this the sort of page you'd want to bookmark, share with a friend or recommend?
• Are the pages produced with great care and attention to detail vs. less attention to detail?
"We hope the questions above give some insight into how we try to write algorithms that distinguish higher-quality sites from lower-quality sites," wrote Amit Singhal, Google Fellow.
In apparent reaction, Demand Media announced that it will hire "feature writers" to write 850-word-plus articles based on actual reporting.
"The feature writer role is designed to bring highly experienced writers into our studio to develop lifestyle features around topical ideas, with compelling story lines and original quotes from known industry experts," said Jeremy Reed, senior vice president of editorial at Demand Media.
What a novel idea. Almost sounds like journalism.
And what will they pay these writers, who are required to have 5 to 10 years of experience writing or reporting for a major daily newspaper or equivalent experience as a regular contributor to a major magazine? Up to $350 per article. Yes sir, three hundred and fifty big ones.
And how many of those 850-plus words are going to have to be certain keywords? Somehow, I don't think this move will do much for Demand Media's search engine ranking. Quality is something that just doesn't fit into its business model.
Platform. That is the buzzword at writing conferences lately.
These days, authors and journalists must build more than a story using words. We have to build a platform by virtually networking: linking up with professional connections, rounding up friends and getting people to follow our every little tweet. In several sessions at the recent annual conference of the American Society of Journalists and Authors (ASJA), speakers said that a writer's chances of getting a book deal or a story assignment instantly increased if she could show she had a big network. A network of readers who breathlessly await her next brilliant blog post, online article or tweet. Who are clamoring for a video or podcast from her. Or better yet, an e-book.
In short, editors want us to bring our own audience.
I've made a modest start. I own my domain name – www.tamharbert.com. I have a blog. I'm on LinkedIn. I'm on Facebook, although apparently I am making a mistake by mixing up my family, friends and business associates. To further my professional platform, I should have a Facebook Profile (which used to be called a fan page.) I'm meekly beginning to tweet.
How many social media channels does it take to build a platform? At the podcasting session, someone recommended posting podcasts on the Public Radio Exchange to attract an audience. "Think of it as your very own radio show," she said. I was so traumatized by all the platform talk that as soon as I got home I spent a couple hundred bucks buying up a bunch of domain names – .coms, .nets, .orgs – even a .tv – just to stake out my claims to potential spots where I might, someday, build out my platform. That last one – a domain name on YouTube – was because one of the ASJA panelists thought that would be the next big thing. I don't even like having my picture taken. What am I going to do with my own TV channel?
In fact, I so don't like photos of myself that I use my logo instead of my picture on social networks. That logo is part of my effort to "build my brand." But I'm starting to wonder whether that's a mistake. At the conference, ASJA arranged for a photographer to offer a special deal on professional headshots for attendees. An edgy photo has become part of a writer's brand, at least for some. A few of the business cards I collected had headshots on them, the same headshot the writer had on Facebook, Twitter and LinkedIn. My business card, like my social media sites, has my logo. I either have to change to a photo or start wearing my logo, writ large, at conferences.
Is it all worth it? I don't know. I've added a few planks to my platform. I've gained a few more followers on Twitter, added a couple friends and linked into several potentially valuable professional contacts. But I now find myself pre-occupied with my shabby numbers. Only 150 friends. About 60 followers. And I've succumbed to platform envy. I'm spending way too much time checking out other writers, astounded at the number of people they've connected to. As if that's not enough, today I find out (via Compukol's blog post) about Klout, a company that measures your overall influence online. My score: a measly 27 out of 100. Klout tells me I have "a small but tightly formed network that is highly engaged."
Maybe that's good for a journalist that specializes in a few niches, as I do. Maybe Klout was just trying to make me feel better. But even as I complain about all this social networking, I must admit that I'm better suited to networking online than the old-fashioned way (in person). As a writer, I prefer cocooning in my office to the grin-and-grab circuit. After a couple of days schmoozing at a conference I need to hibernate for a week. But online I can use my writing skills to be witty and smart. I can socialize on my timetable. I can pick the people I want to talk to. I may not win any online popularity contests, but I will gradually build a strong platform, one plank at a time.
I started the ASJA (American Society of Journalists and Authors) annual conference in New York City last week by attending an 8:30 a.m. session titled "Side-Stepping the Post-File Hangover," which focused on how to deal with the lull and let-down after the storm of meeting a big deadline. Fourteen sessions, two luncheons, two cocktail parties and two networking dinners later, I need some kind of cure for the post-conference hangover.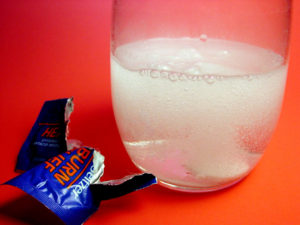 Conferences are usually great, and the ASJA conference was everything I expected and more. But then comes the Monday morning after the conference. I return from these things with a mile-long to-do list and a head full of possibilities. I've learned all about "how to use social media to build your platform." I now have "everything you need to know about e-books." I've collected lots of "tips for producing a podcast." I'm sidestepping the "ten ways to blog your way into a lawsuit." And I've experienced how "Sree explains it all," in which Columbia J-school professor Sree Sreenivasan crams as many social media tips as possible into three hours.
Exhausted from non-stop learning and networking over three days, I have to face a week of deadlines and demands while the stacks of notes and business cards from the conference sit accusingly on my desk. Come on, they nag, you need to connect with all these folks on Twitter. Remember those three editors who expressed interest in getting a pitch from you? Better follow up soon or you'll lose them. But I have three editors to whom I owe actual stories or outlines this week. And those great tips on podcasting? In one corner of my office sits a box with a fancy $300 digital recorder I bought last year, after a conference in June got me all excited about producing podcasts for my blog. I haven't used it once.
The ASJA conference was great. But the chasm between all the potential opportunities gathered there and the day-to-day grind of reality here at my desk seems impossibly wide. Maybe things will look better tomorrow. Meanwhile, I'm going to get some aspirin for my aching head.