Archive for August, 2010
I've been meaning to write this post for a week. Really. Then I told myself, "hey, it's August. Everybody's on vacation. It's not like the six people who read my blog are going to actually miss it."
I put off starting a blog for a long time. I knew once I started I'd have to post regularly. At least that's what all the experts say. And I knew my habits well enough to understand what that would mean. Without an editor setting a deadline, I expend tremendous amounts of emotional energy just to psych myself into sitting down and writing.
Even with an editor imposing a deadline, my procrastination tendencies often back me into a corner when it comes time to file a story. I love to report, conduct research and interview people. I also love to write. But there is this strange no-man's land in between those two activities, where my brain acts like a seven-year-old with attention deficit hyperactivity disorder.
Unless I've got a brilliant idea for a post, or the results of my reporting have yielded a fantastic story that I just can't wait to tell, anything and everything becomes a diversion. Suddenly, I must:
- Run out for Starbucks. I don't even like Starbucks.
- Walk the dog, even though I have to wake him up to do it.
- Bathe the dog. Ditto.
- Check my social networks. Facebook alone is good for killing at least an hour.
- Check how the stock market is doing. As if it makes any difference to my pathetic nest egg.
- Search freelance sites for job opportunities. I can always justify the time spent as "marketing."
- Call former editors and colleagues. Ditto.
- Research some obscure question on the Internet. Did you know that Mozart's full baptismal name was Johannes Chrysostomus Wolfgangus Theophilus Mozart?
- Perform routine computer maintenance, including deleting thousands of e-mail messages, running security scans and updating software.
- Make personal appointments. Hair cuts. Dental appointments. Don't I deserve a massage this week?
My personal favorite: Making lists of what I'm going to do on each of the next few days. This makes me feel tremendously productive.
While these things keep me busy, they don't divert my brain much. I think a lot about what I'm going to write. I compose the article in my head. I like to say that the entire piece is all completed, all that's left is the mechanics of getting it down on paper. Hell, Mozart did it. "Everything has been composed, just not written down," he once told his nagging father.
Problem is, I'm not Mozart. And even if I were, that "writing down" part takes a long time, even with a computer. I'd better get started.
Too bad it's time for my pedicure . . .
My freelance writing usually falls into one of two categories: straight journalism and custom publishing. Over the last year, as journalism and independent publishing suffers the extinction of the dead-tree business model and desperately searches for digital models that can replace it, custom publishing has become a much larger part of my business.
Custom publishing – producing articles, newsletters and magazines for a corporation or organization – is a form of marketing. As such, the goal of the writing is usually to get someone to buy something. Even the high-brow, glossy custom magazines that publish in-depth articles aimed at top-level executives are selling something. The goal of these magazines is often "thought leadership," a vague marketing term that means the company is promoting how smart it is. They are trying to get the reader to buy into the image of the leaders of this corporation as particularly intelligent, insightful and strategic thinkers.
Such phrases have started creeping into my vocabulary as I do more custom work. I've always been a stickler with myself, and with others whom I edit, about keeping language simple, clear and concise. While many marketers value good writing, some do not. They – and the executives above them – apparently think imprecise, vague language effectively promotes their product or advances their agenda. Granted, the goal is to sell something, to in some way influence the reader's behavior, but to do that you need to hook readers – by entertaining them, piquing their curiosity or delivering valuable information. Marketing people often think in terms of what they, and their company, want to say, rather than what the reader – their customer – needs. I try to point out to them that few people will actually read their custom magazine or corporate white paper unless it's interesting, well-written or useful – and preferably all three. And those that do read it aren't likely to take action if they get the sense that the article is just promoting the company.
But the marketing folks sign the checks. My job is to write what they want in the way they want it. So I cringe, subvert my hard-earned skills and write how I'm told. I write about challenges, rather than problems. There are no products or services – they are all solutions. Some are even, God forbid, unique solutions. And these solutions are often optimized, a word that runs all too rampant in marketing copy. (To optimize is to "make as effective, perfect or useful as possible." If you have to optimize a product, that implies it wasn't very effective or useful to start with.) All the while I imagine my notoriously loud and dictatorial journalism professor, John Bremner, rolling over in his grave and screaming "barbarisms!" (Yes, that word applies to writing. According to Dictionary.com, definition #3: "the use in a language of forms or constructions felt by some to be undesirably alien to the established standards of the language.")
I know I shouldn't complain. After all, in a strict business sense, my goal is to please my customer. Still, it gives me a stomach ache to write this way. And that's not all. Like a fungus in a dark room, these marketing phrases and meaningless executive pronouncements proliferate and sneak into my journalism. It doesn't help that I often interview marketing people, as well as executives, for my stories, and thus am exposed to these phrases on several fronts.
How to combat this? One of the best antidotes I've found is editing work. In college, Bremner seared so many editing commandments into my brain that I somehow channel him when I edit other's work. My ability to sniff out the inexact phrase or dangling participle becomes keener when I read someone else's copy. When I don't have others to edit, I try to bifurcate my personality. I'll write a draft of something, let it sit for a day, and then come back to it with my merciless Bremner persona, red pen ready to slash.
The other method is to really listen and think when I interview people. Even journalists – who are professional listeners as well as writers – sometimes get lazy as they take in the answers to their questions. I try to remember to ask, at least once during any given interview, some version of the question: "What the hell does that mean?" More diplomatically than that, of course. For example, the other day a CIO was explaining to me a strategic move that his company made. "They were charged to come back with a change in communication initiatives to drive better alignment for not only the IT organization, but also drive better alignment for the enterprise." I was able to partially translate as: "I asked them to tell me how .. ." but I had no idea what he meant by better alignment. So I asked. His answer got into important details that enabled me to write a much more interesting and useful story for the reader.
Whether the reader is a magazine subscriber or a customer, that should always be the goal.
I used to think I didn't need a mobile phone because – frankly – I'm not very mobile. But as phones become smarter they are becoming the prime line of communications for most people. I'm finding it's increasingly difficult to function without an up-to-date phone.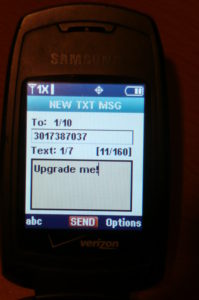 My primary reason to have a mobile phone was always so I could be reached in an emergency. I never liked the quality of cell calls, and much preferred to do my talking on a landline. A couple of years ago I got tired of being locked into contracts that made me pay for minutes that I never used, so I'm now on a pre-paid option of Verizon's. I bought my own phone – one of the cheapest available at the time – and I buy minutes in increments of $15, which covers about a month's worth of my calling and texting.
I do virtually all of my work in my home office, which is equipped with two landlines and a broadband cable connection. With all these lines of communication in my home and office, why would I need to use my mobile phone as well?
Several recent events have shown me why. For one thing, more and more people consider mobile phones as the primary means of reaching someone. In fact, young people text and Facebook on their mobile devices far more than they talk. So much so that my teenage son rarely checks his voice mail, or even his e-mail for that matter. And he assumes that everyone else is like his crowd. Last week, for example, he didn't come home at the time he was expected. After an hour of worry, I finally called his mobile phone to make sure he was OK. He was surprised to hear that I didn't know he was running late. He had texted me earlier to let me know. Since I was at home, I wasn't checking my mobile phone for messages.
Recently, our region had widespread and lengthy power outages caused by a thunderstorm. With no power and in most cases no broadband, I saw how critical having sophisticated mobile broadband can be. I called my dog groomer about an hour before our appointment to make sure she had power. She had e-mailed me earlier that day to cancel. When I pointed out to her that I couldn't get e-mail because the power was out, she expressed surprise that I didn't get e-mail on my mobile phone. That same power outage threatened to cancel a swim-team banquet because the power was out at the building where it was going to be held. But the pool itself had power, so the coach e-mailed everyone an hour before the event, telling them we were changing venues. The presumption was that everyone had a phone or a Blackberry that could pick up e-mail.
As these phones get smarter, I'm missing an important communication channel. It's time for an upgrade. And yet, I still don't like the voice quality on mobile phones, and I find it hard to justify the expense when I probably won't use it often. If anyone can recommend a good compromise between expensive, cutting-edge technology and your basic mobile phone, I'm all ears